You are here

V Shape Rebound from the December 2018 Lows
V Shape Rebound from the December 2018 Lows
Submitted by Majerko Investment Management LLC on May 2nd, 2019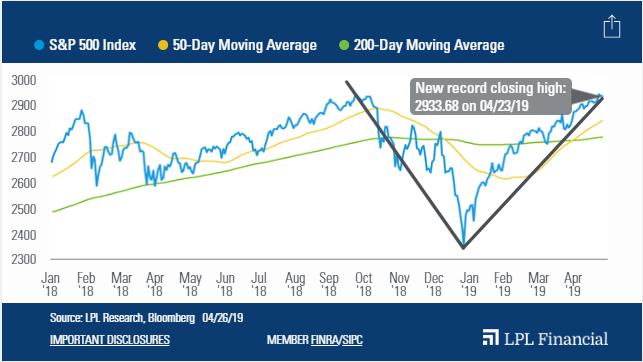 I came across this chart and thought I would share it because to me it look like a textbook V-shape stock market rebound. Since plunging almost 20% late last year, we have recovered almost as quickly. To me, it is a classic example on why it is not prudent to make rash investment decisions based on fear. Instead we should stick to our long term investment plans. This, in my opinion, is the surest way to participate in the long-term growth potential of the stock market.
Cordially,
Terrence Majerko
Important Disclosure
The opinions voiced in the material are for general information only and are not intended to provide specific advice or recommendations for any individual. To determine which investment may be appropriate for you, consult your financial advisor prior to investing. All performance referenced is historical and is no guarantee of future results.
The economic forecasts may not develop as predicted.
Investing involves risk including loss of principal.
All indexes are unmanaged and cannot be invested into directly.
All information is believed to be from reliable sources, however, LPL Financial makes no representation as to its completeness or accuracy.
All indexes are unmanaged and cannot be invest into directly. Past performance is not a guarantee of future results.
This research material has been prepared by LPL Financial LLC. To the extent you are receiving investment advice from a separately registered independent investment advisor, please note that LPL Financial LLC is not an affiliate of and makes no representation with respect to such entity.