You are here

Stocks and Rising Rates
Stocks and Rising Rates
Submitted by Majerko Investment Management LLC on October 24th, 2018
It certainly is evident to me that we are most likely in, and will continue to be in, a period of rising interest rates for the foreseeable future. I think it is very informative to see how stocks have performed in a rising interest environment. Conventional wisdom says that rising interest rates are not good for the market and I would tend to agree. But if you look at the chart below, you will see they have also performed quite well in rising interest rate environments.
What does this tell me?
A couple of things actually. One, over the long term, stocks do well in all environments. And two, a rising interest rate environment is really nothing to fear unless they go up too fast which, at least for the now, we are seeing gradual rate increases.
So I say don't fear rising interest rates, maybe even embrace them as you may even make a little more money in your savings.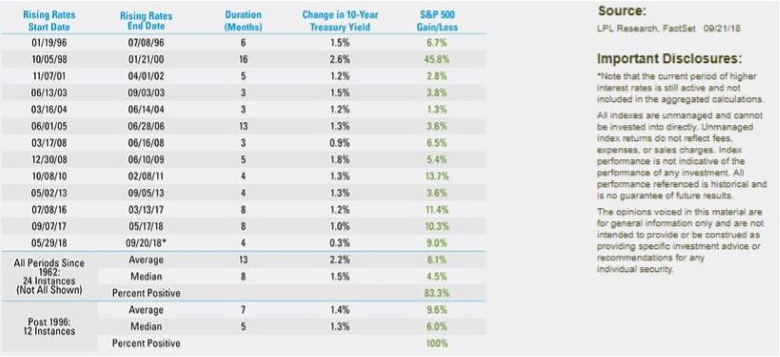 *Disclosure: The opinions voiced in this material are for general information only and are not intended to provide specific advice for an individual. The economic forecasts may not develop as predicted and there can be no guarantee that strategies promoted will be successful.
Terrence Majerko is a LPL registered representative with, and securities offered through LPL Financial, Member FINRA/SIPC.